One of the most common California road trips is undoubtedly the route from Los Angeles to San Francisco, cities that, along with Las Vegas, are usually the point of arrival or departure of West Coast travels. It's not just because of the numerous points of interest in these two cities that make this route so popular, but also the beautiful scenic Pacific Coast Highway, which connects Los Angeles to San Francisco, allowing you to drive alongside the ocean and admire incredibly beautiful views (we also have an article about the best things to do along Highway 1).
Although the scenic coastal road is not the only possible route from Los Angeles to San Francisco, it is without a doubt the most beautiful one to take, but at the same time it is also the longest… so you'll have to plan to stop for at least one overnight stay (if not 2) to fully enjoy it and devote the adequate time to visit the many places along the way. How to plan the stops along Highway 1? Where are the best places to stay between Los Angeles and San Francisco?
In my experience, these are the two best alternatives:
Break up the trip into two sections by stopping halfway along the Central Coast
Plan for two stops, one closer to San Francisco and the other closer to Los Angeles
Let's look at the 2 options in more detail:
Stay Overnight at the Halfway Point on California's Central Coast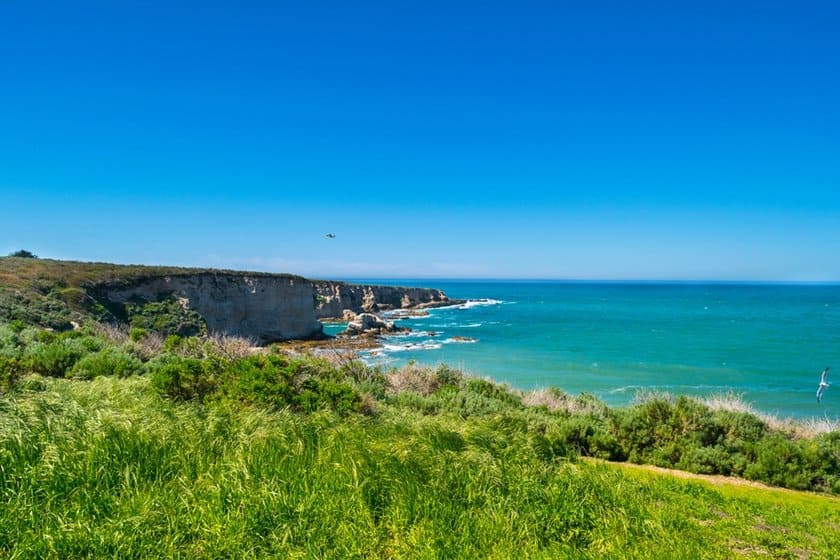 From a logistical point of view, the ideal place to stop that is more or less halfway is in San Luis Obispo County, which does not simply refer to the city of the same name, but circumscribes a much wider region, characterized by green valleys and hills with vineyards, long stretches of beaches and jagged coastlines more suitable for viewing sea lions and whales than for swimming. The region is often considered a mere transit point, but if you spend a few hours exploring, you may discover many surprises…
Where to stay? If you are looking for wide beaches and long wooden piers where you can stroll and relax after many hours of driving, you may consider Avila Beach, with its extravagant downtown boardwalk that seems to resemble Key West, or the peaceful Pismo Beach.
In Cambria, the coast becomes jagged and full of inlets, which is optimal for those who want to experience being immersed in pristine nature in solitude (especially at sunset!). Morro Bay is known for Morro Rock, the huge magnificent volcanic boulder that stands out over the ocean (read our guide on what to do in Morro Bay). Among all these destinations, in the Los Osos area, there is what many consider to be the natural jewel of the Central Coast, Montana de Oro State Park, where you will find the most impressive cliffs in the area (if you don't believe it, take the trail to Point Buchon to admire the Stonehenge-style rock formations just a few feet from the coast).
San Simeon also overlooks the coast, but it's not its beaches and long wooden pier that attract tourists. Rather, it is Hearst Castle, the most eccentric mansion on the entire California coast and also Cayucos, a resort town nearby with a vague old frontier town style, which has unique surprising features.
Moving inland, the small town of San Luis Obispo, with its historical mission and beautiful surrounding hills, is a good option for those who want to get away from the "coast", while wine lovers can seek a place to stay 31 miles away at Paso Robles. The detour to Paso Robles is actually quite challenging and is more suitable for those who decide to take Highway 101 rather than Highway 1.
Alternatively, you can drive a few miles less and stop at Saint Mary in Santa Barbara County, which is 20 minutes from Pismo Beach. The destination doesn't have much to offer, but it's easier to find cheap accommodations here than in other nearby destinations.
So which destination should you choose for your overnight stay in this area? Since they are all quite close by, you can easily find accommodations that provide the best value for your money and then easily explore the surroundings. Click on the link below and you will find a list with all accommodations on the Central Coast, which also includes some unknown towns in the area where it is easier to find some good deals.
Accommodations on the Central Coast
Overnight Stay near Los Angeles and San Francisco
The other alternative, which foresees two stops, allows you to take your time as you enjoy the sights of the coast with its natural beauty and charming towns. I assure you that there are plenty of things to see!
First Stop: Santa Barbara County
If the itinerary starts from Los Angeles (but it can also be applied if you are going in the opposite direction without any problems), the first stop to spend the night is in Santa Barbara County and the city of Santa Barbara is definitely the first choice because of its many historic buildings and the pleasant waterfront (you can read more about what to see in Santa Barbara in my article).
Driving along the ocean from downtown Los Angeles through Santa Monica and Malibu, you will arrive at your destination in about 2 hours by car, but if you prefer to add another break to the journey further along, ahead here are two options:
Solvang: An unusual town with Danish influences just over 30 miles from Santa Barbara (this requires a detour from the coast). It has a beautiful Spanish mission and a considerable amount of windmills. For more information on this town, check out our guide to what to do in Solvang.
Saint Mary: A town that has nothing special but it does have two logistical advantages:

The price of accommodations is often a little lower than in the most popular destinations in the surrounding area.
By stopping here, you break up the route almost in half, since it's located on the border with San Luis Obispo County. The second stop will be in Monterey County.
Second Stop: Monterey County
No matter which destination in Monterey County you choose to stop at, be prepared to be amazed. The most beautiful part of the journey awaits you now, the Big Sur. The best place to look for accommodations is the area between Big Sur and Monterey Peninsula. Staying here has the following advantages:
You will be 2.5-3 hours away from San Francisco.
You can easily get around the area, which offers several places of interest, including the enchanting Carmel, the scenic 17-Mile Drive, the beautiful views of Point Lobos, the coast dotted with pink flowers in Pacific Grove and much more (to learn more, read our article dedicated to the Monterey Peninsula and the general overview published here).
To find accommodations in this area, I suggest you first check out the best places to stay at Big Sur, which are few, and then, if you don't find anything you like, check the accommodations available in the Monterey area. You will find the complete list in the link below:
Hotels in Monterey County and Big Sur
Map of the Stops along Highway 1