Utah, the "Beehive State", is the land of the Mighty Five, the spectacular five national parks in the land settled by Mormons. Just like in Arizona, here in Utah you will find some of the most amazing red rock natural wonders and drive on breathtaking scenic roads that will make you understand the state's motto: "Life Elevated"! Ready to elevate your spirit?
Scenic Drives
Popular Parks
Bryce Canyon, Zion, Arches, Capitol Reef and Canyonlands: these are Utah's five national parks, known for their natural beauty and landscapes that see thousands of visitors each year. They are part of the Grand Circle, the route that includes some of Southwest natural wonders, which is called a circle precisely because it forms an imaginary circle over the territory. You…
Scroll right and left to see all articles
Bryce Canyon is one of the most popular national parks visited by those who go on a road trip on the West Coast. Even beach lovers, who are absolutely captivated by…
Hidden Gems
If you visited the hoodoos – the red pinnacles that look like massive natural towers- in Bryce Canyon and were captivated by its unprecedented and surreal landscape, why not consider visiting Goblin Valley, one of Utah's little-known nature parks, a stone's throw away from Canyonlands and Capitol Reef? It is, you could say, a "younger brother" of Bryce Canyon, discovered…
Did you know that Monument Valley has a little sister called Valley of the Gods? You must be thinking "All right, even if it does exist, who knows in what remote corner of America this mysterious Valley of the Gods must be"! What if I told you it is 30 minutes or less from Monument Valley? Then, what if I…
I would like to use my experience as the context to talk about Red Canyon in Utah, because the drive on this short stretch of road was an incredible experience that has stayed with me. During my first trip to the Southwest, I was on my way from Las Vegas to Bryce Canyon and I made a stop in St….
Many will contend that anyone who goes on a tour of Utah without a quick stop in the small and unknown Kodachrome Basin State Park will be missing out. And we – who love to find small natural wonders hidden on U.S. maps, especially on the West Coast – are excited talk about it in-depth in this article, because we…
If you want to see incredible natural beauty, you can't go wrong if you go West. Today we tell you about the Flaming Gorge National Recreation Area, located between northeastern Utah and southwestern Wyoming, surrounded by Ashley National Forest. The area of Flaming Gorge is almost 66 square miles and it is at an average altitude of 6070 ft. The…
Although it is not one of the busiest tourist destinations, Buckskin Gulch is the longest and deepest slot canyon in the southwest of the United States. It can be reached via Highway 89 and is located about halfway between Kanab and Page on the border between Utah and Arizona. Both Buckskin Gulch and Water Holes Canyon are definitely good alternatives for…
Because of the incredible amount of attractions in the southern part of Utah (just to be clear, I am referring to the parks with red rocks), it is easy to underestimate the northern area of this beautiful state which, however, contrary to what one might think, does not cease to amaze. The northern part, the one closest to the border…
Cedar Breaks is a pearl hidden in an area with many national parks, you could dare call it a middle ground between the Grand Canyon and Bryce Canyon. If you're planning a trip to Utah, it might be worth considering, especially if you're thinking of spending a few days in the area between Zion National Park and Bryce Canyon. Where…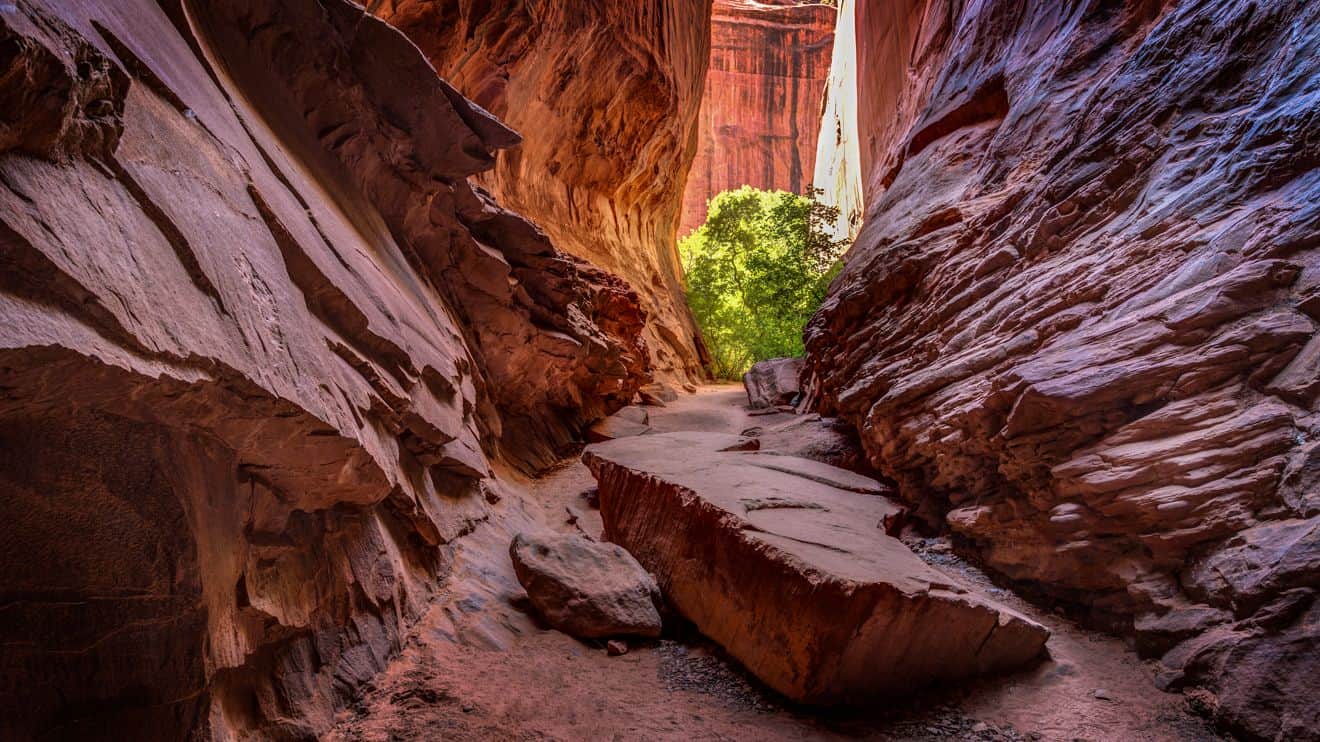 The southern part of Utah has the largest concentration of slot canyons in the world (there are more than a thousand of them south of Interstate 70). Some of them are found in two well-known and extensive national parks. It would be impossible to describe all of them, so we will look only at the best slot canyons in Southern…
The first question that comes almost naturally is what in the world is the Grand Staircase-Escalante National Monument? If you have had the chance to browse our website a little, you will have seen it mentioned and indeed, I'll tell you more. If you are not on your first trip to the USA, it is also possible that during a…
When we see pictures of tall sand dunes, we immediately think of the Sahara Desert, often forgetting that there are many other sandy deserts around the world. Many of these, each with its own characteristics, can be found in American territory, from the scorching Kelso Dunes in Mojave to the pale dunes of the White Sands National Park in New…
The immense Grand Staircase Escalante National Monument contains many attractions that are somewhat hidden, which can be visited for free. The Toadstool Hoodoos are one of them and make for a great stop between some of the area's major natural attractions. If you're planning a road trip between Utah and Arizona, you may be looking for a few interesting places…
It is delightful to see water flowing into a creek in the middle of a canyon surrounded by desert. And when you see this enchanting sight comes into view after a few hours of walking under the scorching sunshine, you will hardly resist the urge to dive into the clear water. If you are planning to travel on UT-12 during your road…
We at Travel-USA know well that a month would not be enough to explore all the beautiful places in Utah! Today I want to tell you about Fantasy Canyon, a special place that is rarely featured on itineraries of the Southwest. Perhaps you have already fallen in love with this place after seeing the cover picture, and you're wondering why…
Because of Snow Canyon's proximity to a large and popular park like Zion National Park in Utah, the park is not typically included by those visiting the area or traveling around the West Coast. While one can understand the need to optimize travel, I recommend that you at least consider a visit to this state park because it is sure…
Dinosaur National Monument is a very unique park and relatively unknown to travelers since it is far from the routes of classic Southwest itineraries. In fact, the park is located exactly on the border between Colorado and Utah, so you may consider visiting this area if you are planning an itinerary through Colorado and the other states in the Great…
Best Views
Bonneville Salt Flats is one of the most unusual natural wonders that you may be lucky enough to see while traveling in the United States. It is located in the…
Moab is a great starting point for anyone who wants to explore the impressive natural landscapes of Utah's parks, including Canyonlands, Arches, and Capitol Reef and hidden gems like Goblin…
Are you familiar with the view of Horseshoe Bend? Multiply that by three, picture fewer tourists, and you'll get an idea of what awaits you at Goosenecks State Park. In…
When you see images of winding roads, meandering through mountains, rocks and cliffs, don't you want to just jump into your car and drive? Well, then you definitely need to…
Classic West Coast tours include a 1-day to 2-day stop in Page, just enough time to visit the great classic destinations: Antelope Canyon, Horseshoe Bend, and if there is any…
Major Cities
Kanab is a small town in Utah famous for being one of the best places to visit Bryce Canyon, Zion National Park and Grand Staircase-Escalante National Monument. If you're planning…
If you're coming from Las Vegas, Arizona, or southern Utah and you're on a West Coast trip to Yellowstone Park, before heading into Wyoming, you'll most likely make a stop…
St. George, Utah is a great strategic point for all those who begin their trip in Las Vegas to visit the parks in Utah and Arizona, but also for those who…
Unfortunately, many West Coast travel itineraries skip it, but Moab (Utah) is in a key location that allows you to visit at least half of the phenomenal Mighty Five, and…
Special Attractions
To find yourself standing in 4 different states at the same time is certainly not an everyday experience, yet it is possible at the Four Corners Monument, the intersection of Colorado, Utah, New Mexico, and Arizona. It is located in a desert area that in and of itself is nothing special (except its strength lies in the proximity to scenic…
In Moab, the city in Utah famous for Arches, Canyonlands and Castle Valley the surprises never end, but this time I want to tell you about a really unusual place, which you will surely notice when you are in Moab. Perhaps it cannot compare with all the incredible beauty of the city's surroundings, but Hole N" The Rock can be…
The old town of Paria was a small western outpost that was inhabited until the late 1920s. After it was abandoned, it became a ghost town and because of the incredible views in the surrounding area, it has been used as a film set for many successful western films, including Clint Eastwood's The Outlaw Josey Wales. Along the road to…
Time Zone
During the intense and unforgettable days of my journey from Las Vegas to Monument Valley, my ability to tell time was put to the test. I felt like I was in a daze because of the rush from one stop to the next, the beauty and incredible variety of places that were completely new to me, and the constantly changing…
Map of Utah