Unfortunately, many West Coast travel itineraries skip it, but Moab (Utah) is in a key location that allows you to visit at least half of the phenomenal Mighty Five, and so much more! It's no coincidence that this delightful town is located in a very fortunate position in southeastern Utah, and we've talked about several places of natural points of interest in this area, such as Arches and Canyonlands, and little gems like Goblin Valley or Dead Horse Point State Park, as well as an extensive list of itineraries, hiking trails and excursions in this area that abounds in natural beauty.
Moab only has a population of 5,000, but it is very significant for tourism in the area. A good analogy that can illustrate the importance of this town is to think of Moab as the Page of Utah. Both of them are must-see destinations because of the many natural wonders that surround them, but the main difference is that Moab itself – with its rustic style and green spaces – is much more picturesque than Page.
But back to us: what are the best things to do in Moab? What are the attractions and natural points of interest that you can visit while you are here? Are there scenic drives and hiking trails to try? In this article, I want to help you by giving you a comprehensive summary of all this information and give you some tips for choosing the best possible accommodation.
Things to Do in Moab: A Map of all of the Attractions
Usually, people stay in Moab for 2-3 days, because the amount of things to do and see is really overwhelming. Here is the map with all the attractions mentioned in the article.
Parks near Moab
The closest nature parks to Moab are Arches National Park, the Island in the Sky district of Canyonlands and Dead Horse Point State Park, but I'll also mention others that you must visit that are usually included in the itinerary when visiting this area. Here they are, in order from closest to farthest from Moab.
Moab to Arches National Park (5 miles)
Let's start with Arches National Park, a must-see attraction. If you already know a little bit about the famous parks of Utah maybe I don't need to add anything, because maybe it's because of Arches that you have come to Moab. However, for everyone else, I must mention that Arches contains many exceptional views of the red rock landscapes and is best known for having some of the most incredible natural sandstone arches in the whole area. In the article about hiking in Arches, you will find many insights on how to best plan a visit to the park, and the top natural arches and other rock formations to visit by car or on foot. Among others, I would like to point out the exquisite Delicate Arch, the "aerodynamic" Landscape Arch and the arches of The Windows area.
Moab can be considered a foyer to Arches, because it is located just 10 minutes south of the park's visitor center acts as an entrance hall of the park. It's simple, just take US-191 S and the exit will be on the right marked by a brown sign.
Moab to Dead Horse Point State Park (33 miles)
The second stop I'd like to point out is Dead Horse Point State Park, one of my personal favorites. Yes, because just like Page, Moab has its own Horseshoe Bend, the unmistakable landmark of the Colorado River. In the article dedicated to Dead Horse Point State Park, we have pointed the unique features of this undervalued state park, which is just as remarkable as the more famous ones in the area and, above all, is really easy to visit. In fact, it has an overlook with a parking lot right next to it, so that visitors do not have to walk far.
It takes about 35 minutes to get from Moab to Dead Horse Point, and most of the journey (about 11 miles) takes place on the aforementioned US-191 S. Then you will have to turn left on UT-313 W, a road that you'll have to take not only if you're going to Dead Horse Point State Park, but also to Island in the Sky, one of the Canyonlands districts. I'll talk more about it later, but for now, I will say that for strategic reasons, it makes sense to combine the visit to Dead Horse Point with the visit to Canyonlands.
Moab to Canyonlands (distance may vary)
That's right, between Moab and Canyonlands the distance "varies". What does this mean? You'll find out by reading our in-depth article with tips for visiting Canyonlands, another important pillar of the Mighty Five, and perhaps the most challenging to explore in its entirety. In a nutshell, Canyonlands is divided into three districts, which are spread out, and they are: the aforementioned Island in the Sky, Needles, and the impenetrable The Maze.
Island in the Sky is the easiest to reach from Moab. The distance from Moab, which is about 31 miles, takes a little less than an hour, although once you enter Island in the Sky, you will also drive inside the park to reach the various points of interest. To get to Island in the Sky, you can follow the same route to Dead Horse Point State Park, but you can also take Potash Road, which proves to be a more adventurous alternative. I'll talk about that later.
Needles, with its impressive sandstone pillars, is located in a completely different direction. To reach Needles from Moab, you will have to drive south for about 37 miles on US-191 S and then take UT-211 W west for another 37 miles.
The Maze is full of wonders but it is very remote. If you are using Moab as your base, we do not recommend that you visit the Maze, because to get there you need to make a much longer route. The Hans Flat Ranger Station is 3 hours away from Moab, and in any case, rangers discourage visits that are less than three days long.
Moab to Goblin Valley (99 miles)
If you want to visit the bizarre and mysterious Goblin Valley from Moab, you must take a 1 hour and 4o minutes drive. It's a bit farther than the other places, so in the case of both for the Goblin Valley and Capitol Reef (which we'll talk about later), Moab would be considered more of a stop after the visit.
If you are really interested in seeing the peculiar rock formations of this park, its armies of sandstone gnomes (or ogres?) and the mighty rock castles, take a look at the directions to get there from Green River, an important junction on I-70, northwest of Moab. You can find the directions in our article dedicated to the Goblin Valley.
Moab to Capitol Reef (146 miles)
The same advice given above applies here. It takes 2 hours to travel from Moab to Capitol Reef. In any case, if you are coming from the west, you should consider passing through Capitol Reef before reaching Moab.
In our Capitol Reef article, we gave you all the tips to visit this park that is overlooked. In our opinion, it is doable to visit it in a few hours, especially if your program includes a stay in southeastern Utah and you plan to stop in Moab next.
Scenic Roads Around Moab
Around Moab, there are some exceptionally beautiful scenic roads that locals are familiar with while tourists often underestimate them. I must mention that 3 of the 4 roads I will tell you about run along the Colorado River, and each one is unique.
Upper Colorado Scenic Byway (UT-128)
Rarely have I seen such spectacular views that can compare with the views on UT-128 (Upper Colorado Scenic Byway), a road that can be used as an alternative to US-191 that connects Moab to I-70 and goes towards Colorado. When I found myself on the Upper Colorado River Scenic Byway in the heart of Professor Valley, the moment I saw Castle Valley, it made me think of Forrest Gump Point, the famous vista point of the legendary Monument Valley.
But it doesn't end there! By taking short detours, you can reach natural areas of great beauty where you can take unforgettable hikes, such as Fisher Towers, Grandstaff Canyon (formerly Negro Bill Canyon) and, last but not least, the ghost town called Cisco. Remember that you will also be traveling along the impetuous course of the Colorado River, just like in a western movie.
Potash Road and Shafer Trail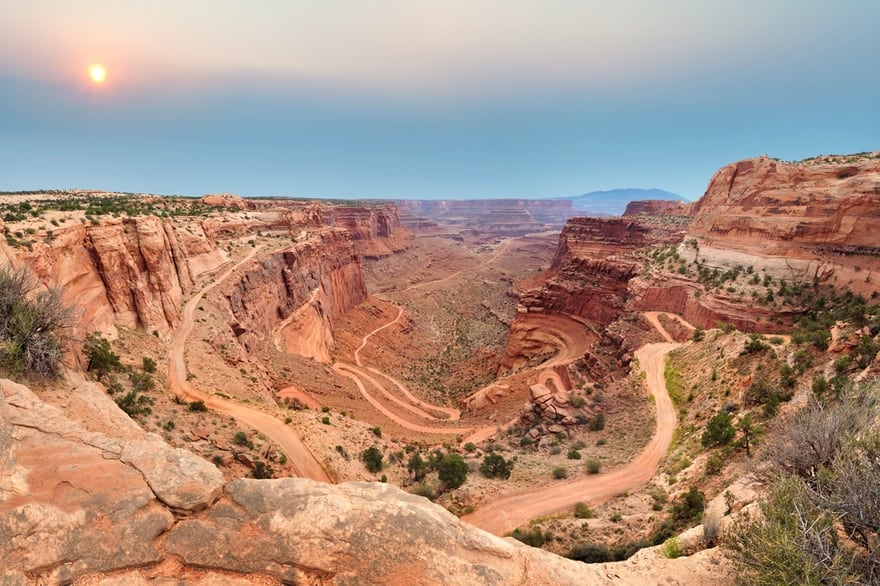 In one of the previous sections, I told you that Potash Road is a much more adventurous way to reach Island in the Sky from Moab. This mysterious road full of surprises is partly a paved road and partly a dirt road, that crosses the exceptional Shafer Canyon (Canyonlands) and leads to the Shafer Trail, which makes a perilous climb up the wall of the canyon.
In my article dedicated to the Potash Road, I provided all the necessary information to those who want to venture on it and described all of the hikes you can go on by leaving the car on the side of the road. There are detours off of Potash Rd, neither long nor short, that take you to exceptional natural arches such as Corona Arch and Bowtie Arch, the deep and scenic Long Canyon Road, the colorful potassium evaporation tanks and the famous Thelma & Louise Point, an overlook made famous by the movie of the same name.
Kane Creek Road
While Potash Road runs along the north side of the Colorado River, Kane Creek Road follows the course of the river on the south side. This excellent scenic road is not as well known as the others, but it will delight those who love driving through the area's typical red canyons on dirt roads. The first part of the route actually takes place on a paved road and gives access to some canyon trails (Moonflower Canyon and Pritchett Canyon). Then the road veers away from the Colorado River and becomes a dirt road that leads to Kane Creek Canyon.
You can continue driving (preferably in a tall, four-wheel-drive) and visit the Birthing Scene Petroglyph archaeological site and the trail to Funnell Arch (also known as Cable Arch). After that, you can decide if you want to continue along the narrow serpentine canyon, pass the junction with the Hunter Canyon (with a camping area) and reach an open and wild landscape, where the Chicken Corner Safari Route begins. At this point, I recommend that you turn back when you feel satisfied with your trip.
Kane Creek Road starts in the center of Moab, where you will turn off of the main road at this point and drive west. In total, as indicated on the map below, I suggest you drive 6-7.5 miles from the point where Kane Creek Road begins to follow the course of the Colorado River.
La Sal Loop Scenic Drive
As you can easily understand from the name, this scenic road climbs about 4300 ft up the La Sal Mountains, the Utah mountain range that is seen in the background of landscapes around Moab. It is a long 62-mile loop that begins and ends up in Moab, following a stretch of UT-128, through Castle Valley and then up the western flank of the mountains, offering exceptional views of both the mountains and the entire Moab Valley.
Along the main route, there are also junctions with secondary roads to the many lakes in the area, namely, Oowah Lake, Warner Lake and Ken's Lake. The final part of the loop takes place on US-191 N, which concludes in Spanish Valley, south of Moab.
As you leave Castle Valley, you should follow the signs for the La Sal Loop Scenic Drive carefully, but it may also be helpful to follow the map below.
Moab Hikes and Other Points of Interest
If you want to know what else is out there besides the parks and scenic roads mentioned above, keep in mind that the area of Moab offers more than anyone could imagine, so much so that a week may not be enough to see all its beauty. Therefore, in addition to mentioning again here Fisher Towers, Grandstaff Canyon, Corona Arch, Bowtie Arch, which I highly recommend and can be reached by taking short detours from the scenic roads, I also want to point out the following hikes in and around Moab that are fairly accessible by car.
In Moab
Sand Flats Recreation Area: Moab is located in the heart of a wide valley protected by high red rock walls. At the top of the eastern slope is Sand Flats, a nature recreation area that is popular among campers and especially bikers and off-road enthusiasts. While cyclists and hikers like to ride along the petrified dunes of the Slickrock Trail or Porcupine Rim Trail to the Colorado River, 4×4 drivers can venture up the ridge driving on Hell's Revenge, one of the most dangerous roads in the area. Due to the great challenges this road presents, unless you are an experienced driver, it is advisable to book a guided tour at this link. Here is the address of the Sand Flats Recreation Area.
Mill Creek Falls: Also on the eastern side of Moab, there is a nice trail along the Mill Creek creek that provides a reprieve from the high temperatures, especially during the hot months. The parking lot is located at this address, a few miles outside the city. You will find yourself in front of the waterfall generated by the Mill Creek Power Dam, and after a few hundred feet, an easy ride into the canyon (1.6 miles round trip) that leads to a natural pool with a waterfall. You walk on smooth rock (be careful, it can be slippery), under the shade provided by trees. Almost at the end of the trail, before you reach the waterfalls, you have to cross the river to stay on the north branch (North Fork) of the river. Don't worry, it's simple. If it's really hot, jump into the pool at the end of the trail!
Hidden Valley: Hidden Valley is located in the top of the western corner of the Moab Valley and is virtually unknown, but experienced hikers in the area define it as one of the most remarkable places in the area. Unlike Mill Creek Falls, you'll have to hike uphill quite a bit to get to Hidden Valley, since the trail starts at the base of the rock wall. The trailhead is located here, at a parking lot and there are signs that explain the hike. After a few hairpin bends, you reach the top of the canyon gradually climbing 656 ft. You will find yourself on a sandy path surrounded by low vegetation, in a landscape of jagged sandstone cliffs, sharp rocks and domes as far as the eye can see. In total, the path is almost 6 miles long, so it will take you at least 3 hours.
North of Moab
Sego Canyon, located 50 minutes north of Moab, in Thompson Springs, is a true open-air archaeological site. About 3.4 miles after Thompson Springs, you'll find signs for Sego Canyon Rock Art on your left. Leave your car in the parking lot and take the short trail that leads to impressive petroglyphs, the oldest of which date back about 8000 years. A little further down the road, the paved road becomes a dirt road.
Turning right after just 2625 ft, you will reach the ancient cemetery and 1.86 miles later, you will find the remains of Sego, now a ghost town that is dilapidated. Here are the coordinates for Sego.
South of Moab
South of Moab, by taking some detours, neither too short nor too long, from the US-191 S, you can easily drive to some points of interest. Little effort will be required and it is highly rewarding. These are the points of interest:
Looking Glass Rock: an impressive hollow rock in the middle of the desert. To reach it coming from Moab, you have to leave the US-191 at this point, taking the Looking Glass Rock Road. You drive on a wide dirt road for 1.86 miles and then turn left. After parking the car, you have to turn around the dome walking on the smooth rock until you are in front of the hollow part of the rock, which looks like a huge natural theatre. There is also the possibility (a bit dangerous actually) to enter inside the dome by climbing on the smooth rock to the top and entering through an open "window" on the sidewall, which is visible above the parking lot. I would not recommend this to those who are afraid of heights!
Wilson Arch: About 25 miles south of Moab you will find a large clearing on the right side of the US-191. Park your car and step out to contemplate Wilson Arch, a majestic natural arch overlooking the road.
Needles Overlook: We're a bit far from Moab, but the city is still the reference point for this overlook. The reason why it's called Needles Overlook because it offers an exciting view of the Needles District, a district of Canyonlands. To reach the overlook, turn right at this point and drive on a fairly monotonous paved road for 22 miles to the overlook, which is directly operated by the NPS. From there, I suggest that you spend about half an hour to enjoy the immense panorama.
Anticline Overlook: At this point on the route, between the US-191 and the Needles Overlook, there is a fork in the road. If you turn left, you will reach the Needles Overlook, but if you keep going straight on a dirt road for 16 miles, you will reach the Anticline Overlook, an excellent vista point with a view of Dead Horse Point and Island in the Sky.
Fun Things to Do in Moab
There is no shortage of attractions and shops around here with unusual American-themed objects. Since I am very fascinated by these places, I decided to list a few of them, in case you are interested:
Hole N" The Rock: I think it's definitely worth mentioning this flashy and eclectic shop carved into the rock with its huge white inscription and dune buggy at the top of the rock face. Keep an eye out for it as you drive along US-191 south of Moab. If you like the quirky vibe of Route 66, you will also find it here in Utah! We talked about all its characteristics in our article about Hole N" The Rock. Happy reading!
Moab Rock Shop: While Hole N" The Rock is located quite a bit south of downtown, the Moab Rock Shop welcomes you north of Moab, not far from Arches National Park. What's is so special about this place? We're talking about a store that specializes in stones, fossils and… dinosaur bones! If you have a few thousand dollars to spend, you can take home a tyrannosaurus femur, otherwise, you can settle for a few more moderately priced fossils or a gold nugget so that you can pretend to be pioneers of the Far West. Outside of the shop, you will find a display of locomotives, mining equipment and rusty mining carts from the last century.
Moab Giants: There are several pieces of evidence that of the presence of dinosaurs in this area. Well, Moab Giants is a small theme park designed specifically for T-rex enthusiasts. If you've come here for the natural beauty, maybe Moab Giants won't be the first thing you'll want to visit, but if you brought your kids along (or if you're a child at heart!), you might consider spending a couple of hours here. The highlights include various children's workshops and a museum collection of fossils and dinosaur footprints found in this area, including the Dinosaur Trail, with over 100 life-sized (or nearly 100) dinosaur specimens, as well as the 5D Prehistoric Aquarium, a virtual experience to discover underwater monsters and the 3D Theater, a sort of exciting prehistoric lesson in three dimensions. Moab Giants is located here, at the intersection of US-191 and UT-313. If you're going from Moab to Island in the Sky or Dead Horse Point, you can't miss it!
Best Time to Visit Moab: Climate and Temperatures
Moab's climate is very well defined; it is characterized by very hot summers and harsh winters and the seasons in between act as buffers between the two extremes. It is also a very dry climate. Just imagine that in August, the rainiest month of the year, there are on average only 6 days of rainfall. Let's now look at some other factors in order to give you an idea of what kind of weather to expect when you visit Moab.
In the summer months (June, July and August) the average low temperature during the first days of June is 57°, while the highest temperature will be around 99° in July, which is the hottest time of the year (the record is 115°). In autumn (September, October, November), as I mentioned above, temperatures start to drop. In fact, there will be a transition from September, when it is still quite hot (highest temperature is 86° and the lowest is 52°), to November, when the cold season is approaching and the daily high temperature will almost never exceed 55° and the low temperature could fall below freezing. October is in my opinion an ideal month to visit Moab.
The winter (December, January and February) is very harsh and during January, the coldest month, the high temperature barely exceeds 43° and the minimum temperatures can reach 19°. On the other hand, although the weather is not mild, this is the period when hotel prices are lower since it falls in the middle of the low season. During these months it is also possible to get a few days of snow. During the spring (March, April and May), by March, the temperatures have already started to rise. In March, temperatures exceed 63°, whereas in February the average temperature was 50°. Then in May, it starts to feel like summer, because the average high temperature is over 82° while the temperature never falls below 48°.
Guided Tours in Moab: Recommended Activities
Here are some of the main excursions and the guided tours you can take from Moab to the nearby parks.
Discover all the activities in Moab
Places to Eat in Moab
Here are some restaurants and diners in Moab to try:
Moab Diner: Small restaurant and classic diner, located in the heart of Moab along the main road. As you can sit comfortably in a typical booth, you can eat rich and tasty dishes, including hamburgers and other meat dishes. Unusually though, the diner does not serve beer (189 S Main St, Moab).
Desert Bistro: This restaurant is located in a more secluded green area and has a parking lot. The menu at the Desert Bistro has a selection that includes a few more elaborate dishes than the Moab Diner, including some fusion dishes. If you get tired of grilled meat, come here and try something different (36 S 100 W, Moab).
The Broken Oar: Compared to the two restaurants I have mentioned, the Broken Oar – will also entice you with its meat menu – will win you over with its Far West atmosphere. The whole structure, arranged on two floors, is built in a rustic-mountain style entirely of wood. Inside there is a fireplace and outside there is a porch that is similar to what you would find at saloons (53 W 400 N, Moab).
Where to Stay in Moab: Some Useful Tips
Moab is a relatively small and somewhat remote village, caressed by Colorado River and dominated by the red rock canyons all around. Therefore, one would think it's not that difficult to find a hotel in Moab. Nothing could be further from the truth. Due to its fortunate geographical location, Moab has earned a certain reputation among tourists and has become a reference point for outdoor sports and recreation, so much so that the accommodations in the area are always full and the prices very high.
It's a good idea to get there early if you want to book the best accommodation, not to mention the exceptional ranch-resorts along the Colorado River on UT-128, including the Red Cliffs Lodge, which is mentioned below.
Here are our recommendations:
Inca Inn: Classic motel that embodies the vibe of this city, but the quality of service here is above average. This place has character. For instance, it has a bike on the roof. It is important to note that it has a swimming pool. As you may recall, it gets very hot in Moab in the summer.
Bighorn Lodge: A characteristic motel in the center of Moab built in a rustic style with wooden rooms with Native American decor. A further plus, in addition to the room size, cleanliness and design, is the presence of a City Market nearby, which happens to be a very well-stocked supermarket.
Moab Valley RV Resort and Campground: This resort-campsite, located a stone's throw from Arches National Park, offers, in addition to a swimming pool, some excellent wooden cottages. It is a beautiful property, although there is not much shade…
Red Cliffs Lodge: We are a little outside Moab, near the Grandstaff Canyon trailhead, overlooking Castle Valley. This lodge, which has vineyards and western movies museum, is one of the few 4-star hotels in the area and it's hospitality is impeccable… Meanwhile, the Colorado River is just a stone's throw away, and the red rock escarpments guard the area around the Red Cliffs Lodge.