Before talking about UT-12 (Scenic Byway 12), one of the most beautiful scenic roads in the United States, I'd like to start by telling you that very often, during road trips of the West Coast, to save a few hours of travel between one stop and another, people decide to take the fastest road instead of the most beautiful road. On one hand, it is understandable that those who are a bit tight on time may make this choice, but on the other hand, they run a risk and may feel regretful after the trip when they realize what they missed out on.
For example, I was still an amateur traveler when I decided to go from St. George to Bryce via the anonymous I-15 N instead of UT-9. What is the moral of the story? I saved half an hour of traveling, but I missed one of the best scenic drives in all of Utah! Don't make the same mistake I did…
Don't do it even if you have to go north from Bryce Canyon towards Capitol Reef / Moab. You may be tempted to take I-70 to save a couple of hours of time. But at what cost? What if I told you that by doing so you miss the opportunity to see one of the most beautiful landscapes in the whole West? That's why I want to talk to you today about Scenic Byway 12.
Utah Scenic Byway 12: Things to Know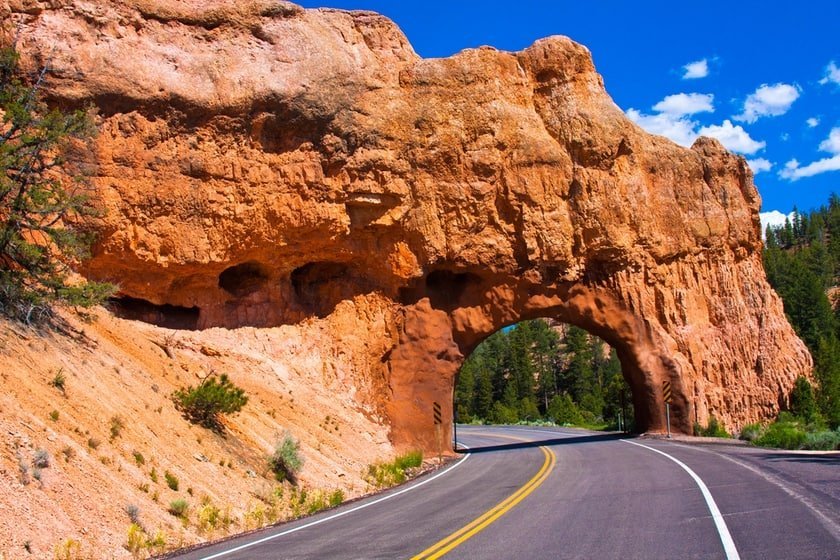 Here are some brief points on what you need to know before you hit the road:
Highway 12 Utah:
There are no tolls
It's 124 miles long and can take 3 hours or more if you make a stop or about 2.5 hours if you never stop (highly unlikely)
It's all paved, but there are many secondary unpaved scenic roads that require a 4×4
It crosses many nature parks and landscapes. Besides Bryce Canyon, it cuts through Dixie National Forest, Grand-Staircase Escalante National Monument, the Boulder Mountains and Capitol Reef National Park.
Road Trip on Route 12
When you drive on UT-12, you'll discover that the beauty of the experience is mostly the panorama you'll enjoy on the road. The landscape changes constantly! You'll pass through towering red rock canyons framed by bright green forests, you will see strange rock formations and vast untouched moors of white and grey rock. The contrasting colors change from mile to mile, and there are color combinations like you have never seen before.
Utah Scenic Byway 12 Map
Here are the points of interest to see along the way. In some cases, it's better to make a slightly longer stop, so take note.

Panguitch
The journey starts just before UT-12 for strategic reasons. Like Hatch, Panguitch is located at the beginning of UT-12 (just over twenty minutes from Bryce Canyon), so if you want to start driving early in the morning, you can find accommodations here.
The town is very small, but Main Street, with its historic red brick buildings, has the charm of a town of the Far West. In fact, having been founded in 1864 by the Mormons, Panguitch has a rather long history, so much so that according to the Utah Historical Society, it has one of the highest concentration of historic red brick houses built in the style in vogue between 1880 and 1940, and these houses are not only on Main Street, but also on the surrounding streets. If you want to learn more about the Panguitch Historic District, check out this link.
Food tip: We ate at Cowboy's Smokehouse Cafe (95 N Main Street). Although the environment was very nice outside and inside, the food didn't particularly satisfy us.
Red Canyon
When you start to drive on UT-12, you will be amazed by Red Canyon, which is the perfect prequel to the highly anticipated Bryce Canyon. Driving under Red Canyon's red rock tunnels is a must for all road trips in Utah. The red color of the rock that characterizes these places is due to the combination of iron and oxygen and, as you will see, will be common throughout UT-12.
Bryce Canyon
This is certainly not a quick stop on your trip; rather, it will be the highlight of the entire itinerary. After 17 miles you'll turn onto the road that leads to Bryce Canyon, one of the must-see attractions during a West Coast park tour. It is a natural amphitheater adorned with hoodoos, which are red rock pinnacles. It takes at least 2-3 hours to visit Bryce Canyon. You should take your time as you explore the numerous trails and overlooks on the scenic drive. For more information, please refer to our article about Bryce Canyon.
Kodachrome Basin State Park
22 miles after Bryce Canyon, you will find Kodachrome Basin State Park, a much smaller and little-known park. This natural gem is not directly on UT-12 either. You'll need to make a short detour (about 7.5 miles along Cottonwood Canyon Road) to Cannonville, where you'll find both the visitor center of Grand Staircase-Escalante National Monument and the Grand Staircase Inn, a nice classic motel where you can stay overnight that is surrounded by a fantastic landscape.
I want to mention one more thing about Kodachrome Basin. You will find a handful of trails that cross a secret garden where surreal pillars and boulders made of red rock emerge from the ground. Kodachrome Basin State Park is a family-friendly park and has many surprises in store!
Grosvenor Arch
While you are driving from Cannonville along Cottonwood Canyon Road, at a certain point you will find yourself at a fork in the road. Turn left and follow the signs and you will pass the aforementioned Kodachrome Basin State Park. Continue straight ahead and you will find yourself on a dirt road.
If you keep going for about 10 miles, you will arrive at a small parking lot where you will find the trailhead of the Grosvenor Arch Trail, a very short path that leads to Grosvenor Arch, an imposing double natural arch. This is the largest arch in the entire Grand Staircase-Escalante National Monument.
The Blues/Powell Point Overlook
Heading northeast on the way back to Cannonville, the landscape will begin to change again. We recommend that you stop at the Blues Powell/Point Overlook, 15 miles from Cannonville, where you will find a clearing with a parking lot. Once you have parked the car, you can walk to the ridge where you will see a breathtaking view over a rocky plain with grey ravines and topped by soft pink tall peaks.
Upper Valley Granaries
About 10 miles past the Blues Powell/Point Overlook, you can see a cave on your right that was carved into the rock face by Native Americans. This space was probably used as a barn. Where is it exactly? When you cross a bridge (just after the junction with a side road) look to the right at a clearing that is to the left along the river!
Escalante Petrified Forest State Park
The first town you will find after Cannonville is Escalante, which corresponds to the name of a section of the Grand-Staircase Escalante National Monument. Named the "Heart of Scenic Byway 12" for its privileged location, this Mormon-born town has its own petrified forest, called – the name is not very creative – Escalante Petrified Forest State Park.
Although this state park, located right next to the Wide Hollow Reservoir (710 North Reservoir, Escalante), is not as famous as the Petrified Forest in Arizona, is still worth a visit if you are passing by, because it is the most accessible site in the area where you can see petrified logs that are 1,000 years old.
Hole in the Rock Road
Next, you should drive about 60 miles of Hole in the Rock Road (actually a section of the much longer Hole in the Rock Trail built by Mormon settlers in 1880). You may have heard of this road that enthusiasts of off-road driving in Utah aspire to explore. What does it have to do with UT-12? Well, the well-marked Hole in the Rock Rd branches off from UT-12, 3.7 miles after Escalante. Remember that at the opposite end of Hole in the Rock Road you reach a point that overlooks a remote section of Lake Powell!
Along this long dirt road there are some of the best-kept secrets of the Grand Staircase-Escalante National Monument, for example, the Escalante Canyons. The area is very remote, so before driving along this road you will need to study the trail very well and, above all, inquire at the Escalante Interagency Visitor Center about road conditions. If it is in good condition, you can drive on Hole in the Rock Rd with a SUV, preferably 4-wheel drive, which will be especially important in the last 5.6 miles of the road (from Soda Spring onwards).
Along the Hole in the Rock Road, there are many beautiful and adventurous hikes, including the Zebra Slot Canyon and the Dry Fork area, where you can access various canyons (Peek-a-boo Slot Canyon, Spooky Slot Canyon, Brimstone Gulch), the surreal area of Devil's Garden (Metate Arch), the Golden Cathedral Trail, the Dance Hall Rock amphitheater and, last but not least, Reflection Canyon, which is one of Lake Powell's most popular and isolated picturesque spots. Hole in the Rock, the scenic rock cliff over Lake Powell that gives the road its name, is at the end of the road. If you go there, you will have to tell us about it!
Head of the Rocks Overlook
After Escalante, the landscape turns red and creamy white. After driving 10 miles past the city, I recommend that you take some pictures at the Head of the Rocks Overlook, which offers an incredible view of Escalante Canyon.
Boynton Overlook
The road continues through steep walls made of smooth red rock, but after driving just over 2.5 miles, you will make another stop at the Boynton Overlook, which also offers a great view of the valley carved out by the Escalante River. You'll see deep escarpments, red rock domes, arches and pinnacles in the distance. It is really fun to pass right through the red rocks as you drive in this section of the road.
Shortly after the Boynton Overlook, you'll see signs to the Kiva Koffeehouse, a small place on a scenic hilltop. This is a great place to stop for something to drink and enjoy exceptional views!
Escalante River Trail
At the bottom of the hill, you'll find a bridge over the Escalante River and it is here that the Escalante River Trail starts. It is a long trail that extends 13 miles along the course of the river and ends in Escalante. On this trail you will also find the Escalante Natural Arch and the Escalante Natural Bridge. The two points of interest are relatively close to each other (about 10 minutes), but it takes about 40 minutes from the bridge at the beginning of the trail to reach them. Next, as you keep walking to Escalante, you will also see some ancient petroglyphs.
Calf Creek Recreation Area
One of the most popular trails in the area leads to Lower Calf Creek Falls, beautiful waterfalls that pour into a natural pool hidden deep inside Calf Creek Canyon. This is also not a quick stop, because the trail is 5.6 miles long and takes at least 3 hours round trip. The trail begins at the Calf Creek Campground and there is little shade. It is sandy, which makes the trail harder, but the view that awaits you at the bottom of the canyon is truly unforgettable.
If you don't have time for this hike, continue driving on UT-12. You will arrive at the Calf Creek Viewpoint and you can find it easily by following the signs.. You can't see the waterfall very well from here, but the view of the canyon from above is still impressive.
The Hogback
5 miles past the Calf Creek Campground, you will be forced to drive through a segment of UT-12 called The Hogback. You'll see that you've arrived when you get to a ridge without guardrails and see an expanse of white rock mountains all around you. This part of the road can be very thrilling, but beware of the speed limit!
Boulder
Boulder is the last town of some relevance before you arrive in Torrey, which marks the end of Scenic Byway 12. This town, called the "last frontier in Utah," is framed by the Boulder Mountains and is home to the Anasazi State Park Museum, where you'll find numerous artifacts of the ancient Anasazi who inhabited this area between 1050 and 1175. You can see a village (partially reconstructed) of about one hundred rooms and buildings.
If you have rented a 4×4 in Boulder, you can also venture out on a famous scenic Burr Trail Road, which is only partially paved. The whole road is about 93 miles long (66 of which are on a dirt road), and offers sensational views of buttes, mesas, plateaus and mountains in Grand-Staircase Escalante, Capitol Reef and the Glen Canyon Recreation National Area.
Homestead Overlook
After Boulder, you will enter Dixie National Forest and the landscape becomes verdant. From the Homestead Overlook (about 10.5 miles from Boulder) you can enjoy a wide panorama at 9,400 ft above sea level.
The view from Larb Hollow Overlook, 10.5 miles later, is no less breathtaking. Not even a painter's palette is as varied!
Torrey
Torrey is the last stop on UT-12. It's worth it to stroll on Torrey's Main Street, even though it's actually Scenic Byway UT-24, which takes you to Moab and also has amazing views. The street is lined with poplar trees and there are art galleries, historic buildings of the last century (including the town's old school, near the Church of Jesus Christ of Latter-day Saints) and nice shops rebuilt in a rustic-country style.
We did a little shopping at the Chuck Wagon General Store (12 W Main St), after visiting the Flute Shop (1705 UT-12), a unique craft store where to buy Native American flutes built in the Native American handicrafts.
How to Choose Accommodations Based on Personal Preference
As you may have guessed, if you have some time to go on a drive on UT-12, you can also spend 2 or more nights as you travel! It all depends on how many and which places you want to visit on foot or by car you want to do. In order to help you decide, I list below the towns where you can spend the night along the UT-12, also naming the points of interest nearby.
Tropic and Cannonville: Bryce Canyon, Cottonwood Canyon Road, Kodachrome Basin State Park
Escalante: Hole in the Rock Road, Escalante River Trail, Calf Creek Recreation Area, Hell's Backbone Road
Boulder: Calf Creek Recreation Area, Hell's Backbone Road, Burr Trail, Anasazi State Park Museum
Torrey: Capitol Reef