Monument Valley, located in the Navajo territory between Arizona and Utah, is one of the best known natural parks in the Southwest. The fantastic natural architecture, the haunting rock sculptures, Sergio Leone's film landscapes, the unmistakable red earth make it an emblem of the unpredictability of American nature, able to attract large numbers of tourists who want to visit the park for one or more days.
If your West Coast itinerary also includes, as it is likely, a carefully planned stop in this Navajo Tribal Park, where to stay in the Monument Valley will be the first question that will come to mind! D
Where to Stay in Monument Valley: Hotels in the Monument Valley or Nearby
First, I will start by giving you this piece of advice, which is spending the night in a hotel in Monument Valley can dramatically improve your visit. If you are wondering why, just know that the most famous hotels in the park (The View, Goulding Lodge) are located in scenic locations that can take your breath away. Just imagine what a priceless view you will have from your room, with the colors of the sunrise or sunset!
It is also true that there are few hotels with a panoramic views and they do not have infinite availability, so if you do not find a place, you will have to reluctantly settle for a place in the surrounding towns, but you can feel better knowing that you will certainly spend less than at a hotel inside or immediately next to Monument Valley. Before giving you more tips, if you still debating on which time of year you should visit Monument Valley, you can take a look at our article dedicated to the best time to Monument Valley.
The View
Surely The View is the most famous hotel in Monument Valley and also the most popular. It has great charm and all amenities included, but the unique feature of this hotel is that each room has a panoramic balcony from which you can enjoy a wonderful view of the valley.
For all these reasons, it is quite difficult to book a room. As of recently, guests can stay in bungalows (premium cabins) from which you can enjoy an equally breathtaking view. Needless to say, even these tend to fill up rather quickly and you'll have to move in advance to book them. To find out more, read our article about The View of Monument Valley.
Goulding's Lodge
Being slightly farther from Monument Valley could make Goulding's Lodge less desirable, but it is certainly more affordable than The View. Although, truth be told, if you are looking for a strategic and comfortable place to sleep in Monument Valley, this may be the smartest option. The hotel has all amenities and the view, which may be different from the one you can admire from The View, is still incredible.
The hotel's secluded location can also facilitate a quieter stay in the park, away from the chaos and noise of tourists. Also, many Monument Valley tours depart from Goulding's Lodge (the entrance is a 10-minute drive away) and for all the other most fascinating itineraries in the area, such as Mystery Valley. Finally, inside the hotel, you can visit the Goulding's Museum & Trading Post, a small but interesting museum where you can learn a lot of useful information about the history of Monument Valley and its use in Hollywood films.
In addition to the standard rooms, there are also has apartments and suites separate from the main lodge. Sometimes on the internet, you can find them under the name of Goulding's Apartments or Hillside Suites, but you can book them directly from the page linked to the button below, where you can choose a room, suite or apartment. Again, it's always a good idea to book as soon as possible so you don't run the risk of being left in a difficult position.
Book a room at Goulding's Lodge
Monument Valley Tipi Village
If you are looking for a quaint and unusual accommodation experience, try looking for a room… or rather a teepee at Tipi Village. You read correctly, the idea is to sleep in the Native American style, and when you wake up in the morning you will find yourself surrounded by the imposing red rock monoliths of the valley.
Hotels near Monument Valley: The Neighboring Towns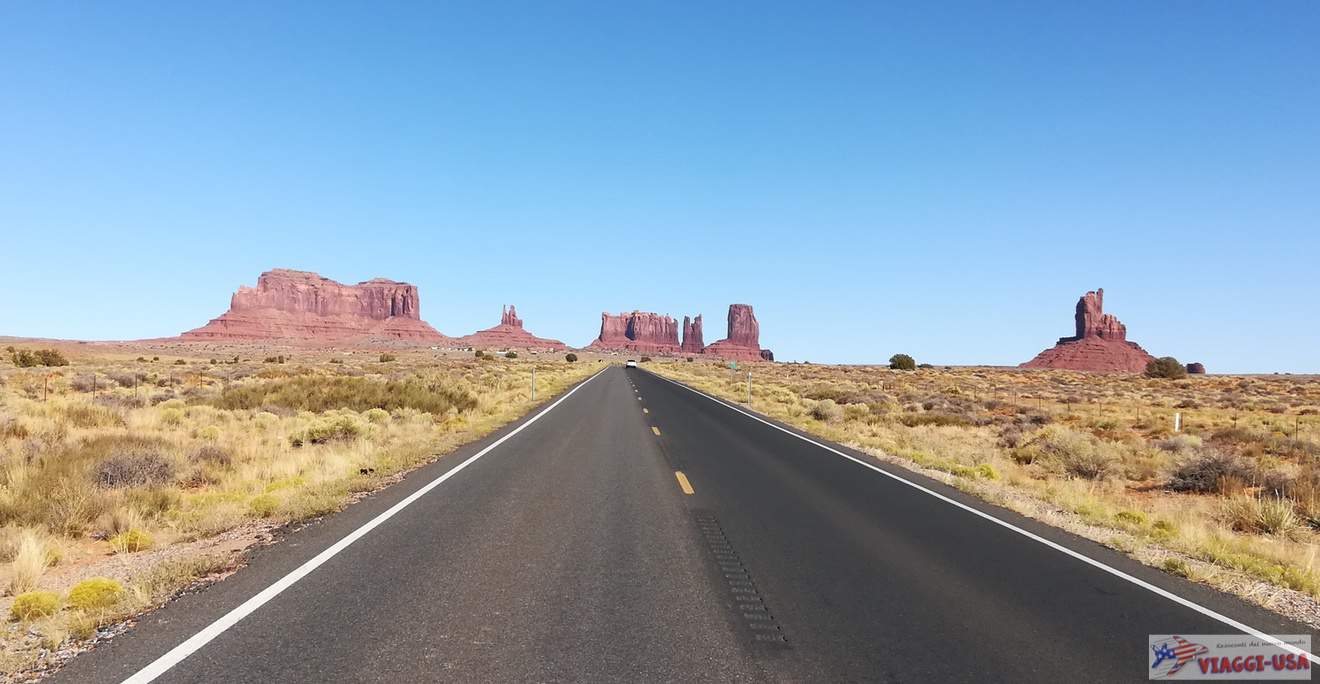 Monument Valley is located halfway between Kayenta and Bluff, and a few miles from Mexican Hat. All three towns are recommended strategic points for those who want to spend the night outside Monument Valley.
If You're Coming from the South… Kayenta
Surely Kayenta is the most convenient stop for those who are driving from Las Vegas to Monument Valley, coming from Page or the Grand Canyon. It is a very plain town, which is why we recommend you to choose a comfortable place to stay where you can relax when you return from Monument Valley, being aware that there is nothing to see. Alternatively, there is also the unattractive Tuba City, but only if you want to break the roadtrip from Grand Canyon to Monument Valley with an overnight stay.
As for Kayenta, we recommend two possibilities:
Wetherill Inn: This is the closest motel in Kayenta to Monument Valley. There is a very nice indoor pool where you can relax after the day's efforts. Book your room
Kayenta Monument Valley Inn: A well-kept hotel with a gym, outdoor swimming pool and all amenities, and just 25 minutes away from Monument Valley. Book your room
All available accommodations in Kayenta
If you're coming from the north… Bluff and Mexican Hat

If you are coming from the north, from the area near Moab (Canyonlands – Capitol Reef), you will find the tiny town of Bluff on the road, a strategic point to find a place to stay in Monument Valley. Even closer to Monument Valley, you will find Mexican Hat. During my last visit, I slept in this small town, named after the red rock in the shape of a Mexican hat that characterizes this area. This is the hotel where I slept:
San Juan Inn: Run by the Navajo, this motel is conveniently located on the banks of the San Juan River and includes a market (San Juan Trading Post) and a restaurant, open for lunch, dinner and breakfast. Book a room
Find accommodations in Mexican Hat
If You Are Heading to Page…
If you spent the day in Monument Valley and your next stop is Antelope Canyon, Horseshoe Bend or Lake Powell, you'll need to get to the town of Page. The distance is 100 miles, for 1.5 hrs of travel. As soon as you get to the city, you'll have to decide where to sleep, whether it be a hotel in Page…
…or a room at the famous Lake Powell Resort…
If You're Headed to the Grand Canyon…
If, on the other hand, after visiting the Monument Valley, you will stop at the Grand Canyon, the first tip give yourself plenty of time. It takes more than 3 hours to get there. To find accommodations, check out our in-depth article on where to stay between Monument Valley and the Grand Canyon and the article on lodgings at the Grand Canyon.